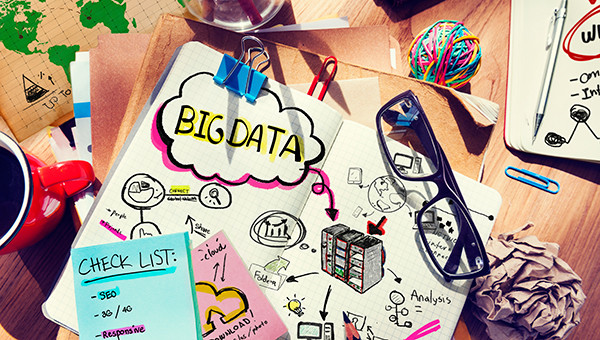 A report from Experian focuses on how experts are managing and utilizing data to produce actionable insights and create a competitive advantage.
When you pay attention to the largest companies in the US by market cap, you'll notice just how important and valuable data has become. What have you ever purchased from Google or Facebook directly? Evidently it does not matter, as Google has over $300 billion and Facebook over $200 billion market cap mainly by monetizing the data they have collected on their customers.
One of their recent whitepaper series, Experian Data Quality Benchmark Report, focuses on some significant insights as more and more businesses are turning to the promise of Big Data for Big Insights. Their focus is around the needs of their customers, how best to find new customers, and eventually increase the value of the customers they currently have (not to mention secure future marketing budgets). The latest study found that:
95% of global companies feel driven to turn data into insight. By having bought into the promise that Big Data would help push new business growth, companies have invested in many different hardware and software solutions to capture, manage and analyze large amounts of data. This data includes customer profiles, transaction records, social media engagements, marketing automation, and just about any facet of the business you'd like to record, measure and improve. However, the data itself isn't where the value is for the business. Therefore, in comes the pressure to turn all of this data collection into actionable insights.
87% of companies are utilizing predictive analytics across their business through one form or another. In the US, two of the most common uses include driving marketing automation and entering new markets. Below is a graph of the other most common uses of predictive analytics: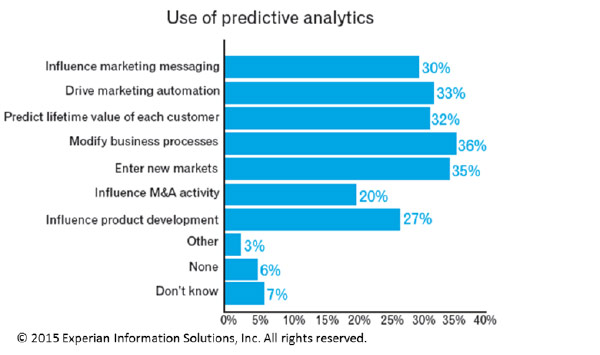 90% of companies integrate email marketing campaigns into their database. Although integrated marketing is vital, the explosive growth of marketing automation and inbound marketing platforms has guaranteed that email is still an important component of a company's communication channel. Research states that 36% of companies claim that email is the most important communication channel for their organization (and email has remained on top since Experian began asking this question some years ago).
On average, US companies predict that 32%of their data is inaccurate. This is one of the main points that Experian is making in this study. Essentially, companies spend so much time and effort collecting, storing and analyzing data, that it becomes difficult to deliver on Big Insights that are expected to improve a business's bottom line. Especially if they suspect that as much as a third of that hard earned data is wrong.
Even if you're not directly responsible for the data quality of your company, this is vital information to understand as the future of your business depends on it. It will undoubtedly be impacted by your ability to turn huge amounts of data into actionable insights that improve your bottom line.
If you're looking for a really good place to start, download Experian's free whitepaper. Learn about the biggest challenges and opportunities using data to make actionable insights and create a competitive advantage for your business. Regardless of what industry you're in, you will either benefit from or risk losing future growth on the predictive analytics delivered by the quality of your data.